When you think of tired eyes, the first thing you might think of is lack of sleep. Though that can be a contributing factor, there are many other potential reasons your eyes feel so tired.
Tired eyes feel uncomfortable, but the good news is it usually doesn't lead to serious vision problems. Resting your eyes or following the necessary steps to reduce eyestrain can help reduce the discomfort. Tired eyes can also signify underlying eye conditions that need treatment.
If you're unsure of the source of your eye fatigue, a visit to the eye doctor for a comprehensive examination can help determine the root cause and provide you with a customized solution.
What Do Tired Eyes Feel Like?
Your eyes work hard every day to process information about the world around you. If you become overtired from intense and excessive use, you may begin to notice the irritating symptoms, including:
Dry eyes
Sore or burning sensation
Blurred vision
Sensitivity to light
Headache
Sore back, neck, and shoulders
Trouble keeping your eyes open
Difficulty concentrating
Giving your eyes the opportunity to rest not only decreases the chance of experiencing the symptoms above, but it can also increase productivity. When your eyes are working to the best of their ability, so are you. Proper sleep helps refresh your eyes with essential nutrients to avoid the tired, irritated feeling.
What Causes Your Eyes to Feel Tired?
Activities that put excess strain on your eyes or cause them to work overtime can lead to eye fatigue. Common causes of tired eyes include:
Staring at a digital screen for an extended period of time
Reading without giving your eyes a break
Driving long distances
Dry eye disease
Uncorrected refractive error
Lack of sleep
An environment with poor lighting
Treatments are available to correct a refractive error or relieve dry eye symptoms and, therefore, relieve you from the feeling of tired eyes. You can also take steps to avoid eye fatigue caused by activities that overwork your eyes. Discuss with your trusted optometrist what options are right for you.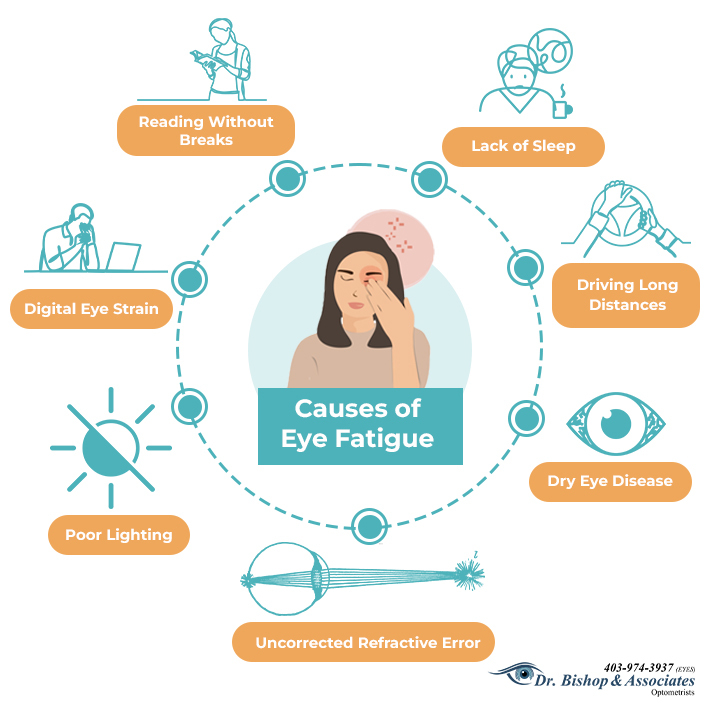 Low Blink Rate
On average, most people blink 15–20 times per minute. When your eyes are focused on a specific task, the number of times you blink can decrease.
Blinking is vital to eye health because it keeps your eyes adequately moisturized, clears your eyes from any dirt and debris, and brings nutrients to your eyes to help keep them healthy. Without even realizing it, activities that cause you to blink less, such as excessive screen time, can lead to tired, irritated eyes.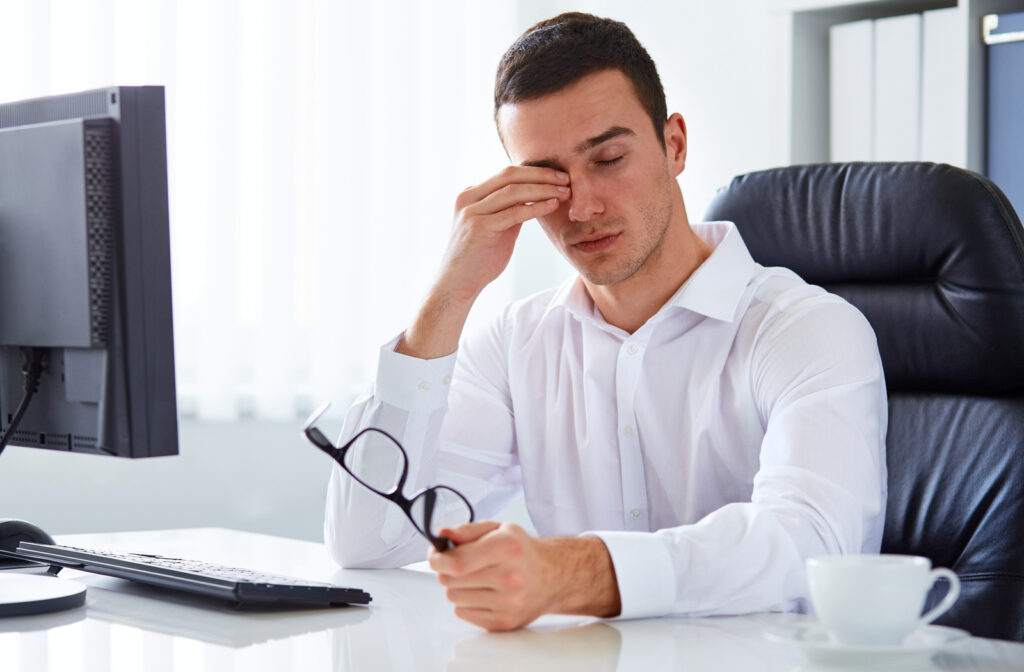 Solutions for Your Eye Fatigue
If you find yourself checking off each item from the list of symptoms of eye fatigue, you can implement the following methods in your daily life to soothe your tired eyes:
Proper positioning of your computer
20/20/20 rule—every 20 minutes, take a 20-second break to focus on something at least 20 feet away
Minimize glare on your digital screen
Increase the number of times you blink
Better lighting in your work environment
Use artificial tears when needed
Try your best to get more sleep
Don't let tired eyes affect your day-to-day life any longer. Making the appropriate changes in your life can make a difference to the comfort of your vision. The team at Dr. Bishop & Associates is always willing to take the time to understand your unique eyes, answer your questions, and provide you with the necessary information to get you on the right path to healthy vision.