If you work in the medical field, a standard pair of frames and lenses simply won't be enough to protect your eyes effectively—especially against COVID-19. For that, you'll need a pair of high-quality medical safety glasses.
Before you can choose the right medical safety glasses, you'll have to know more about how they differ from regular eyewear. Understanding the unique factors that set medical safety glasses apart will teach you what to prioritize when buying a pair for yourself—and the team at Dr. Bishop & Associates is ready to tell you everything you need to know.
How Are Medical Safety Glasses Different From Regular Glasses?
Glasses can vary widely in several key areas, depending on how they are made. Here are a few criteria for safety to bear in mind whenever you're selecting new eyewear for yourself:
The strength of the frames
The durability of the lenses
The lenses' capacity to absorb UV light
The lenses' ability to resist scratches
However, when you're buying safety glasses as part of your PPE for medical work, you also need to think about how they can protect your eyes from specific environmental hazards. Some of these hazards include:
Radiation
Splashing liquids
Lasers (including dental lasers)
Bacteria, viruses, & other pathogens
Buying effective PPE means being aware of the specific risks you face in your work environment, and choosing a pair of safety glasses that can guard you against them. Below, we'll explain how to identify effective medical safety glasses for your purposes.
How Do I Recognize Effective Medical Safety Glasses?
Safety glasses must meet several requirements to serve as part of your PPE for medical work. These requirements are set by the Canadian Standards Association and are detailed in Standard Z94.3.1-02. Before you buy any pair of safety glasses, be sure that they meet the following qualifications:
Markings
Appropriate safety eyewear in Canada must include the following markings:
The manufacturer's trademark
The level of shade protection
The logo of the agency that certified the glasses
These markings must be visible on both the lens and frames of the glasses.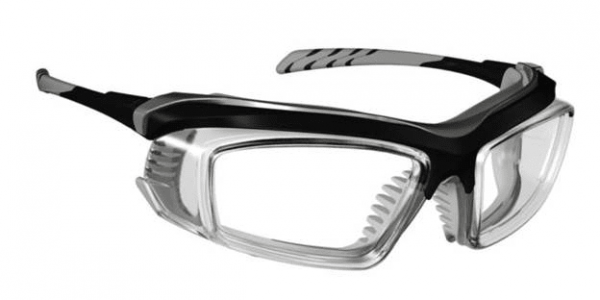 Frames
Medical safety glasses are required to have stronger, more durable frames than typical eyeglasses. The frames should also be designed to prevent the lenses from being pushed into the wearer's eyes during an accident, and must offer side protection.
Lenses
Lenses for all safety glasses must meet CSA impact resistance standards and be made from approved materials. The following is a list of approved materials for safety lenses, along with a breakdown of their pros and cons:
Hi-Vex: a brittle material similar to hard resin. Hi-Vex offers better impact resistance than plastic lenses, full UV filtering, and is extremely clear. It is also lightweight, and compatible with all safety lens coatings (anti-fog, anti-scratch, anti-reflective, and ultraviolet).
Polycarbonate: a naturally transparent thermoplastic. Polycarbonate lenses are lightweight and offer the best impact resistance of any lens material. Many also absorb UV radiation naturally. However, they can only be coated to resist scratches, unlike Hi-Vex lenses.
CR39: a plastic polymer typically used to make eyeglass lenses. Lenses made from CR39 offer excellent resistance to pitting and solvents. However, they are less durable than Hi-Vex, Trivex, or polycarbonate lenses, and are nearly half as heavy as glass lenses.
Trivex: a urethane-based pre-polymer with similar properties to Hi-Vex. Trivex lenses offer better impact resistance than CR39 plastic lenses, although they are not as strong as polycarbonate lenses. Trivex also has properties that allow it to absorb UV radiation naturally.
Glass lenses are not CSA approved, since they do not meet the impact resistance requirements outlined in CSA Z94.3. Glass lenses are also heavier and prone to weakening over time if they are scratched, both of which make them inappropriate for safety glasses. An effective pair of medical safety glasses should be light enough to wear comfortably for hours, so that the wearer isn't tempted to remove them in a potentially risky environment.
Additional Considerations for Medical Safety Glasses
The Canadian Centre for Occupational Health and Safety provides an overview of how to select safety eyewear for different applications, but it isn't possible to cover every situation. Each job in the medical field has its own specific requirements for safety eyewear, based on the likely hazards present.
For protection against COVID-19 and other pathogens, you'll want to select glasses with wide, wrap-around lenses. These ensure your entire eye is covered, helping to prevent potential exposure and infection.
Other considerations include specialized medical equipment, like lasers. For example, anyone working in an environment where a class III laser is used must wear safety eyewear, but anyone working with a class IV laser must have eyewear that also protects from direct and scattered radiation. Many medical lasers (including most dermatology lasers) are considered class IV lasers.
Buying appropriate medical safety eyewear for your job means consulting your employer about the specific regulations that govern your industry and the risks associated with your workplace. You'll also need to make sure that you choose safety glasses that fit your prescription. Several brands, such as ArmouRx, produce prescription safety glasses that are fully compliant with CSA Z94.3.
Find Expert Advice For Buying Your Medical Safety Glasses
Once you've identified the exact requirements for safety glasses at your job, it's best to seek out experienced retailers who can help you find appropriate products. We offer a 50% discount on safety glasses for all health care workers, so feel free to contact us when you're ready to choose effective medical safety glasses and let us point you in the right direction.