If eye protection is essential for you, you are probably already familiar with the importance of wearing safety glasses. But did you know that you can get non-prescription and prescription safety eyewear?
Prescription safety glasses are like any other pair of safety glasses. But what sets them apart is that their lenses are customized to your specific vision needs or prescription, providing the same clarity as your regular prescription glasses.
Your eye doctor can help you if you're looking for a pair of prescription safety glasses.
Why Do You Need Safety Eyewear?
Safety glasses are personal protective equipment (PPE) designed to protect your eyes from a wide range of potential hazards in the workplace or during certain activities. Your eyes are incredibly delicate and vulnerable, and even the smallest particles or substances can cause them damage.
Protecting your eyes with safety eyewear is one way to keep your eyes healthy. Safety glasses can protect your eyes from hazardous or airborne materials, debris, chemicals, sparks, and radiation in a work setting, such as a construction site, manufacturing plant, or laboratory.
Protective eyewear can shield the eyes in a wide range of recreational activities that have the potential for eye injuries, such as sports, including ice hockey, racquetball, and lacrosse. Investing in high-quality safety glasses is a small price to pay for the peace of mind that comes with knowing your eyes are well-protected.
Fit of Safety Glasses
Just as the incorrect fit of eyeglasses can cause headaches, eye fatigue, and blurry vision, the right fit for safety glasses is essential to protect your eyes and the surrounding soft tissues.
Your eye size, bridge size, and temple length vary from other individuals. For these reasons, individually assigned safety eyewear ensures proper fit with minimal gaps between the glasses and your face.
Safety glasses should cover your eyes from the eyebrow to the cheekbone. They should fit over the temples and ears comfortably, adequately supported by the bridge of the nose, and be as close to the face as possible. The fit should also ensure you can see in all directions without any obstructions in your field of view.
What Are Prescription Safety Glasses?
Prescription safety glasses are a type of safety glasses customized to your individual vision needs. They have the combined benefits of traditional safety glasses with the corrective power of prescription eyeglasses, providing protection for your eyes and allowing you to see clearly.
Prescription safety glasses are ideal for people who work in hazardous environments where eye protection is required and who also require prescription eyewear to see clearly. They can come in various lens types, frame styles, and lens materials and coatings.
Hi-Vex
More impact-resistant than CR39 plastic
Available with all coatings
100% UV Blocking
Light-weight
Clear material
Polycarbonate
Most impact-resistant of all lens materials
Light-weight
Can have scratch-resistance coating
UV radiation absorption properties
Plastic (CR39)
About one-half the weight of glass
Resistant to solvents and pitting
Trivex
More impact-resistant than CR39 plastic
Less impact-resistant than polycarbonate
UV radiation absorption properties
Glass
High-density material and heavy lenses
Scratches affect impact resistance
Prescription safety glasses provide comfort and are a highly effective solution if you require protective corrective eyewear and work in potentially hazardous environments.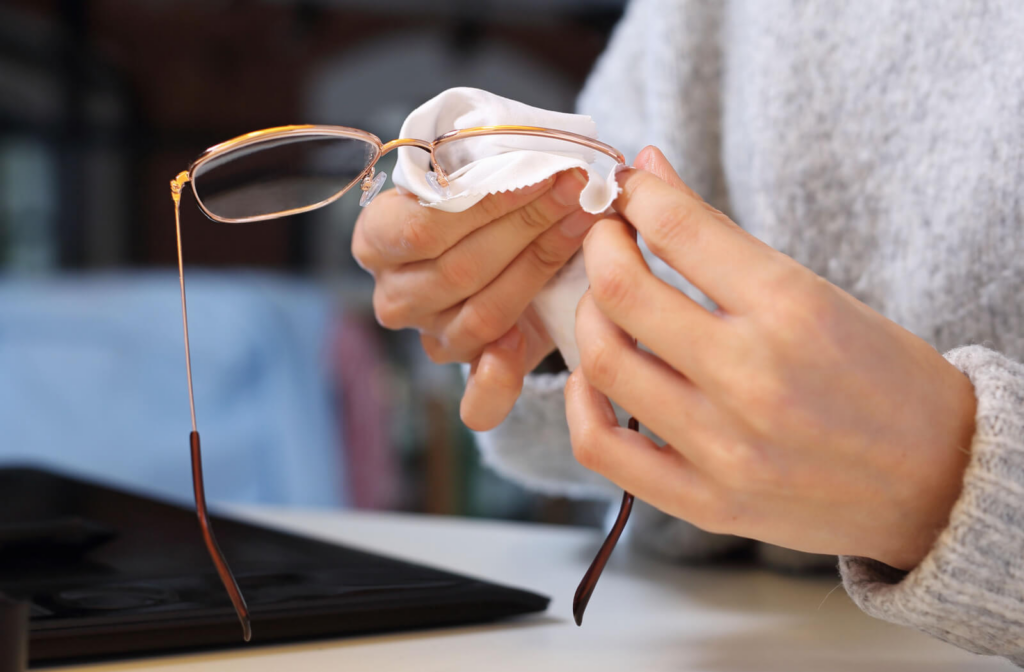 Caring for Safety Glasses
To care for your safety eyewear, they require some maintenance:
Clean them daily by following your eye doctor's or the manufacturer's instructions.
Avoid rough handling to prevent scratched lenses, as these can impair vision and weaken the lens.
Store them in a clean, dry place, such as in a case when not worn.
Replace damaged safety glasses. Scratched, pitted, broken, bent, or ill-fitting glasses can affect your vision and may no longer provide the same protection.
Replace damaged parts from the original manufacturer to ensure safety rating.
Do not change or modify your safety glasses.
Prescription Safety Glasses for Healthy Eyes
At Dr. Bishop & Associates, we offer a wide range of prescription safety glasses that are functional, durable, and comfortable. Our team of eye care professionals can help you find prescription safety glasses that meet your specific needs and preferences.
We're always here to answer any questions you may have. Contact us to schedule a consultation and take the first step toward protecting your eyes and vision.