Getting a new pair of glasses can be a fun experience for the whole family. Picking out stylish frames that match your unique style is something your optometrist knows you look forward to following your eye exam.
We can help you achieve the proper fit during a frame and lens fitting to help ensure your glasses sit comfortably on your face. Poorly fitting glasses can lead to eye fatigue, blurred vision, and headaches.
You may be looking for a convenient way to browse new frames online or simply don't have time to try new ones in person. That's where the question comes whether it's safe to order glasses online.
Let's explore how you can browse frames online and how virtual-try-on services have changed how you discover new frames.
The Convenience of Online Ordering & Virtual Try-On
Online shopping is a staple of daily living and has become one of the most popular ways to get your shopping done. So why not apply that to your glasses?
Eyewear is a part of your everyday life, whether that's sunglasses or your prescription vision correcting glasses. That's where an online store and virtual try-on come in to save the day. The online store allows you to browse various eyewear accessories, including safety eyewear.
Your time is precious and virtual try-on allows you to browse different frames and see how they look from the comfort of your own home.
Virtual try-on is simple:
Upload your photo
Browse different frames and select "try on"
Save your selections as favourites to revisit as needed
Virtual try-on allows you to put on a fashion show in your own home before visiting your optometrist's office to find your favourites in person.
When you're living a busy lifestyle, an online option is essential to preserve your time and help you find those perfect frames. Your glasses serve as an introduction, so you'll want a look that suits you.
Is it Safe to Order Glasses Online?
While it's safe to order glasses online, getting a proper fit is essential so that your frames are doing their job. Virtual try-on has made it possible to see how you'll look in your new frames, but an in-person fitting is required for the best results.
Poorly fitting frames can cause:
Headaches
Eye Fatigue
Blurred vision
Increased pressure on your ears
The only way to get a comfortable fit is to visit your optometrist for a frame and lens fitting. It's crucial to maximize your frames and lenses.
Before you can get your new frames, it's essential to get an updated prescription so your vision will also be clear while you're looking your best.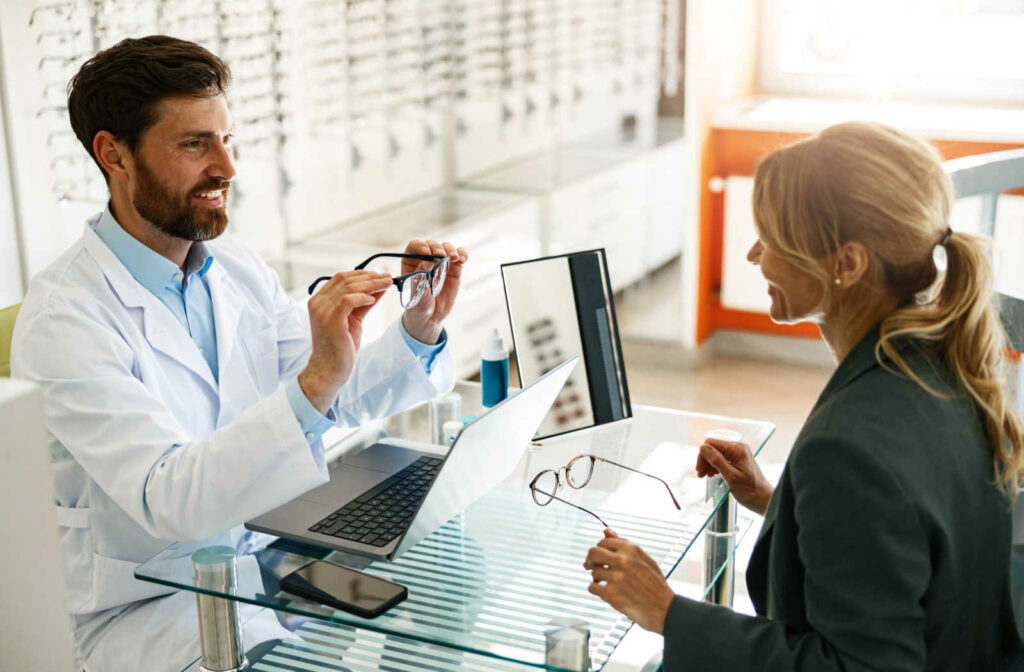 More Than a Prescription
The first step to getting a new pair of frames is visiting your optometrist for a comprehensive eye examination. An eye exam is an essential part of getting not only an updated prescription but also a window into your overall health.
A comprehensive eye exam allows your optometrist to use innovative diagnostic technology to conduct a series of tests and get all the details of your eyes.
This detailed testing allows your optometrist to check for early signs of eye disease and prepare a personalized treatment plan for your unique visual needs.
Your eyes are a window into the rest of your eyes, so protecting them with the proper vision-correcting lenses and frames begins with a comprehensive eye exam.
Getting Your Next Pair of Glasses
Your next pair of glasses could be a virtual try-on away. Convenience is king nowadays, and shopping for new frames is no different. The busy nature of daily life makes an online option an excellent option for people on the go. Book an appointment with your optometrist at Dr. Bishop & Associates to update your new prescription and get the right fit for your new frames today.